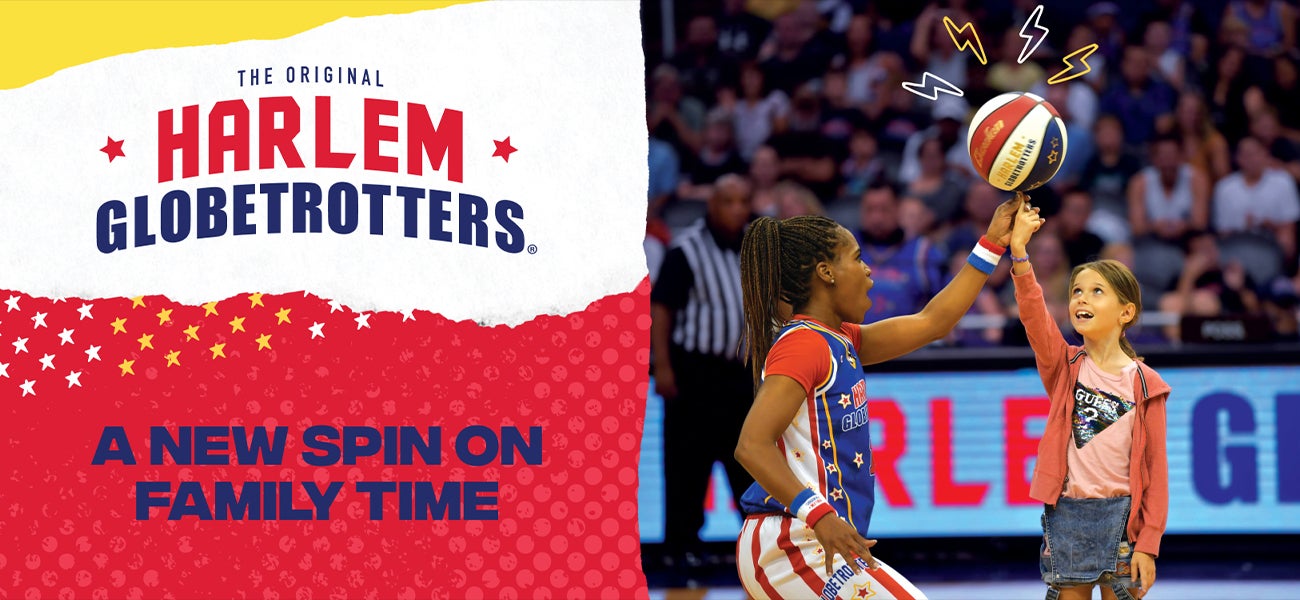 The Harlem Globetrotters
The Harlem Globetrotters
Event Details
The world-famous Harlem Globetrotters, featuring larger than life entertainers, will bring their ALL-NEW show, "Pushing the Limits" to a city near you. Don't miss your chance to get up close and personable with a star-stuffed roster including Big Easy Lofton, Hi-Lite Bruton, and woman stars TNT Lister, Swish Sutton, and Torch George*. Every show features a blend of hilarious hijinks and incredible basketball skills including ball handling, high flying dunks, and a new record-breaking attempt. The Harlem Globetrotters are a one-of-a kind experience putting a new spin on family time. You won't want to miss these memories worth repeating, so get your ticket today!
*Rosters will vary in each city and are subject to change.
MAGIC PASS event takes place from 5:30pm to 6:00pm. Before the game, take
part in a once in a lifetime experience with your family where you have
an opportunity to spend time on the court with the Globetrotters - shooting,
trying out ball tricks and getting autographs and photos!
This unique 30-minute pre-show, MAGIC PASS, will create memories of a lifetime. All customers must have a game ticket AND MAGIC PASS for entry. This includes all children as well as the parent(s), guardian(s) wishing to accompany them. Softrubber soled shoes must be worn on court.
Please Note:
Ages Two and Older Require a Ticket.
Costumes not permitted for guests 14 years & older.
Prices are subject to change
Ticket Limits
There is an eight (8) ticket limit for this event.
Accessible Tickets
ADA seats are available at all points of sale.
Telephone Number(s):
Box Office Info: 203-345-2400
Main Office (+ Other Departments): 203-345-2300
Service Hours:
Box Office is located at the front entrance of the facility on the corner of Main St. & South Frontage Rd.
MONDAY thru FRIDAY 9AM - 5PM
Weekend and Holiday hours can be found on our website here. Box office generally closes 1 hour into the event on event days. ALL TIMES ARE SUBJECT TO CHANGE. Please call 203-345-2400 for questions.