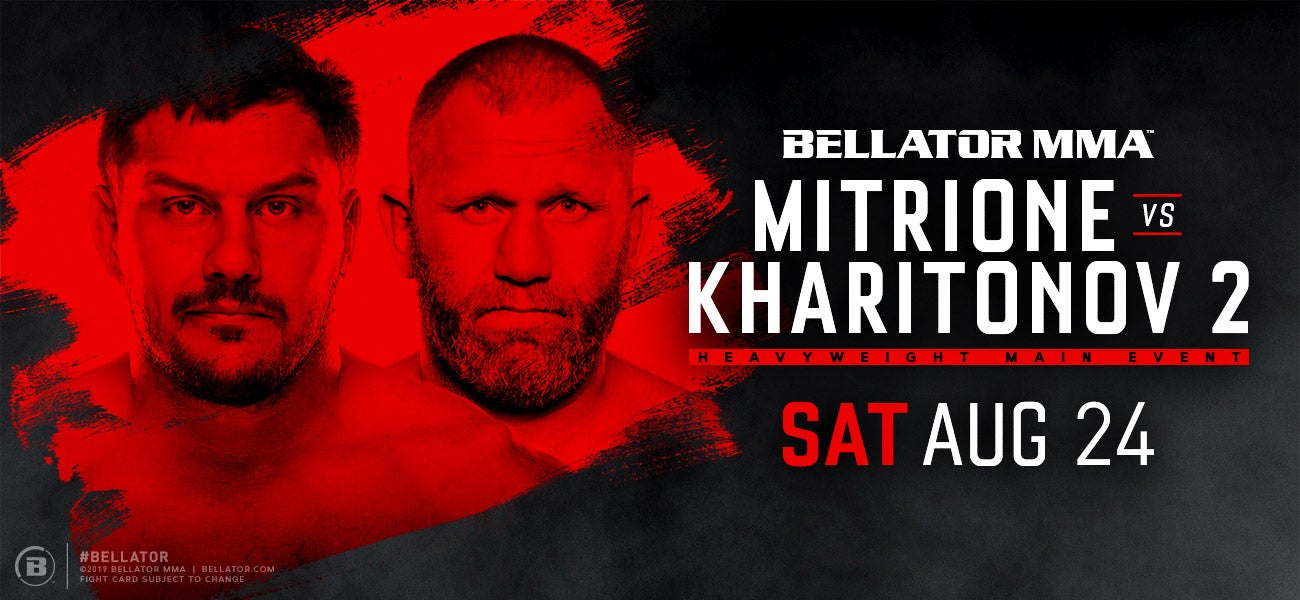 Bellator 225: Mitrione vs. Kharitonov 2
Bellator 225: Mitrione vs. Kharitonov 2
Event Details
Doors Open: 5:15pm
Preliminary Card: 5:45pm
Main Card: 9:00pm
Mohegan Entertainment Presents Bellator MMA: Mitrione vs Kharitonov
Hailing from Indianapolis, Matt Mitrione will once again lace up the gloves in a main event against Kharitonov after an inadvertent shot put an abrupt end to their first matchup at Bellator 215 this past February. The former Purdue University and New York Giant football standout is fresh off a strong run in Bellator's Heavyweight World Grand Prix, where the knockout artist advanced all the way to the semifinal round after defeating Roy Nelson. With victories in four of his last five contests, including a highlight-reel first round knockout of Fedor Emelianenko, Mitrione will now focus on writing the second chapter of his story with Kharitonov.
Riding a seven-fight unbeaten streak, including four first-round finishes and three knockouts, Sergei "The Paratrooper" Kharitonov returns to the U.S. after an unfortunate end to the pair's first meeting. Now, the Moscow-native will seek to add another name to his list of victories amassed in well-known promotions around the globe, such as Pride and Strikeforce, and against equally dominant fighters, including Roy Nelson, Fabricio Werdum, Andrei Arlovski, Murilo "Ninja" Rua and Alistair Overeem.
Complete Bellator 225: Mitrione vs. Kharitonov 2 Fight Card:
Heavyweight Main Event: Matt Mitrione (13-6, 1 NC) vs. Sergei Kharitonov (29-7, 2 NC)
Heavyweight Co-Main Event: Vitaly Minakov (21-1) vs. Javy Ayala (11-7)
Bantamweight Feature Bout: Alejandra Lara (7-3) vs. Taylor Turner (4-5)
175-Pound Catchweight Feature Bout: David Rickels (21-5, 2 NC) vs. Yaroslav Amosov (21-0)
Heavyweight Feature Bout: Tyrell Fortune (6-0) vs. Rudy Schaffroth (6-0, 1 NC)
Preliminary Card:
Welterweight Preliminary Bout: Khonry Gracie (1-1) vs. Oscar Vera (0-1)
165-Pound Catchweight Preliminary Bout: Aviv Gozali (2-0) vs. Eduard Muravitskiy (9-8)
Light Heavyweight Preliminary Bout: Grant Neal (1-0) vs. Alpha Toure (Pro Debut)
Welterweight Preliminary Bout: Sabah Homasi (12-8) vs. Micah Terrill (14-7, 1 NC)
Middleweight Preliminary Bout: Austin Vanderford (7-0) vs. Joseph Creer (6-0-1)
Heavyweight Preliminary Bout: Tim Johnson (12-5) vs. Azunna Anyanwu (15-5)
Bantamweight Preliminary Bout: Ricky Bandejas (11-3) vs. Ahmet Kayretli (8-3, 1 NC)
140-Pound Catchweight Preliminary Bout: Mike Kimbel (3-1) vs. Chris Disonell (3-3)
Lightweight Preliminary Bout: Nick Newell (15-2) vs. Corey Browning (5-2)
165-Pound Catchweight Preliminary Bout: Kastriot Xhema (3-3, 1 NC) vs. Connor Dixon (Pro Debut)
175-Pound Catchweight Preliminary Bout: Jon Manley (11-6) vs. Thiago Rela (10-7)
*Card subject to change.
Additional Ticket Information
Ticket Prices
$58.00 - $263.00
Prices include all taxes and box office fees
Additional service fees from Ticketmaster NOT included
Ticket Limits
There is an eight (8) ticket limit for all offers, including pre-sale.
Accessible Tickets
ADA seats are available at all points of sale.
Show/Box Office Information
Telephone Number(s):
Box Office Info: 203-345-2400
Main Office (+ Other Departments): 203-345-2300
Service Hours:
Box Office is located at the front entrance of the facility on the corner of Main St. & South Frontage Rd.
MONDAY thru FRIDAY 9AM - 5PM
Weekend and Holiday hours can be found on our website here. Box office generally closes 1 hour into the event on event days. ALL TIMES ARE SUBJECT TO CHANGE. Please call 203-345-2400 for questions.