General Information

Parking in the surface lots can be purchased ahead of time via Parkwhiz or on the day of the event. Parking on event day in the surface lots are credit card only.

Prices for the garages may vary and are run through third-party companies. For questions regarding the respective parking garages, please reach out to those organizations directly.
Total Mortgage Arena recommends arriving with enough time to avoid lines and traffic. We encourage guests who are driving to input their lot into GPS for the best experience. Type in the following into your GPS:

2 Allen St,
Bridgeport, CT 06604
ACCESSIBLE PARKING
We have designated parking available for guests with disabilities in all of our parking areas. We encourage guests to purchase parking in advance online.
ADA-accessible parking is available on a first-come-first-serve basis
Please note that all guests with disabilities who park in the accessible parking spots must have a valid disabled parking permit and/or plate on their vehicle.
Guests can be dropped off the front circle outside of the building
RIDE SHARE & DROP OFF
Rideshare drop off and pick up location, in addition to the general drop off and pick up location, is accessed via South Frontage Rd only and is located in front of the arena.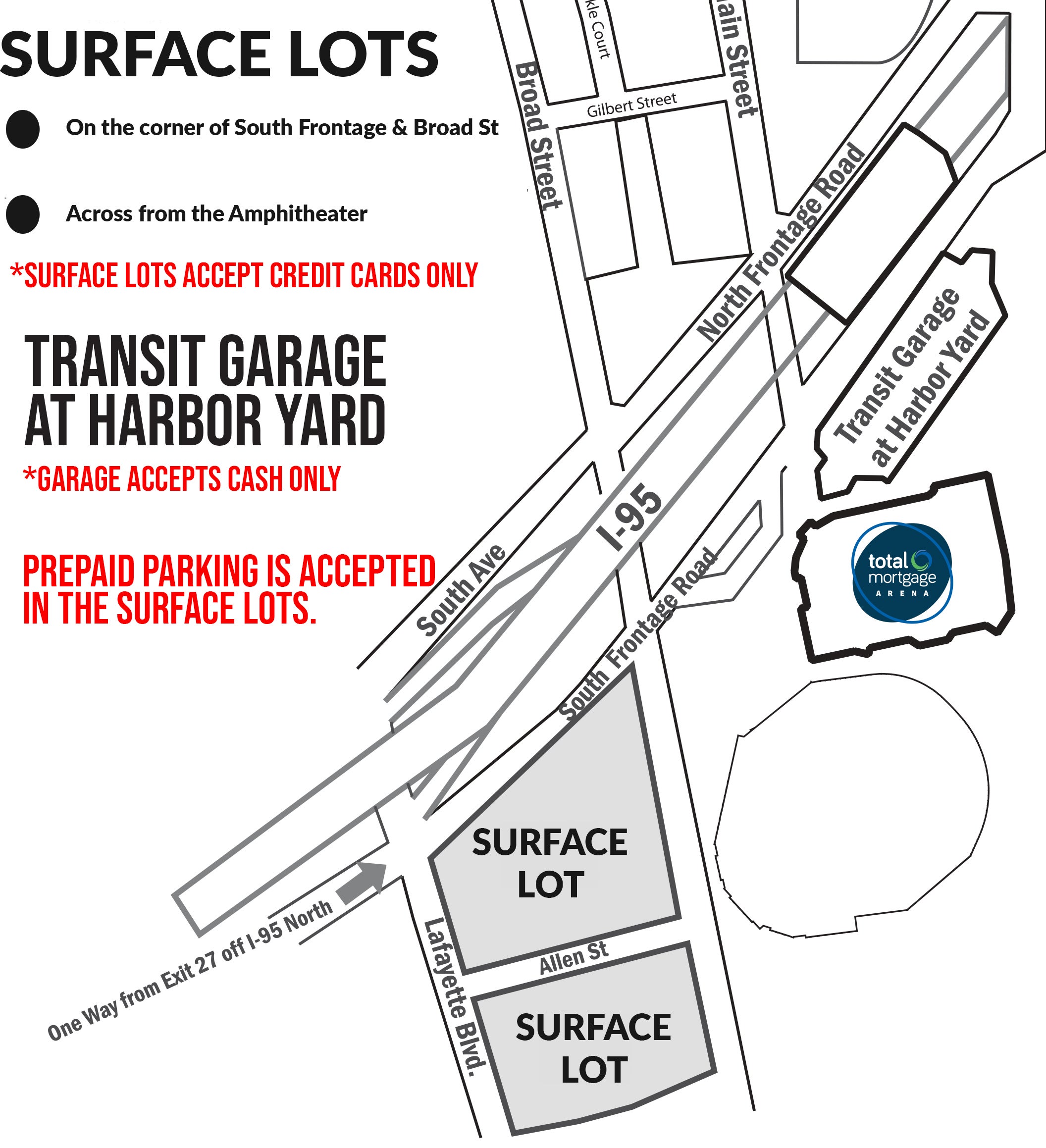 Take EXIT 27B toward Harbor Yard/L.I. Ferry/Trans Center. Turn left onto Lafayette St. Go under I-95, and take the left onto South Frontage Road (do not take the other left onto 1-95 Northbound). Go one block and the Arena will be on your right.
I-95 North to Exit 27 (Lafayette Blvd/Harbor Yard). At the bottom of the ramp continue straight along South Frontage Road past Lafayette St. The next street is Broad Street. Continue straight and the Arena will be on your right.
From The Merritt Parkway Southbound
From the Merritt Parkway, take Exit 52, Route 8 towards Bridgeport. Follow Route 8 to its convergence with Route 25. Follow Routes 8/25 to Exit 1. At the bottom of the ramp go left onto Prospect Street. Go past the State Police barracks and turn right (at 2nd light) onto Lafayette Blvd. Go under I-95 and make a left onto South Frontage Road to Broad Street. Go straight at the light and the Arena is directly in front of you on the right-hand side.
The Bridgeport Transportation Center is only a two-block, well-lit walk from Total Mortgage Arena. This center is serviced by the Metro-North Railroad New Haven line (800.638.7646) and Amtrak (800.872.7245) as well as the Greater Bridgeport Transit Authority (203.333.3031), which provides frequent bus service to the Arena.

Metro-North Railroad New Haven Line Schedule
Amtrak Schedule