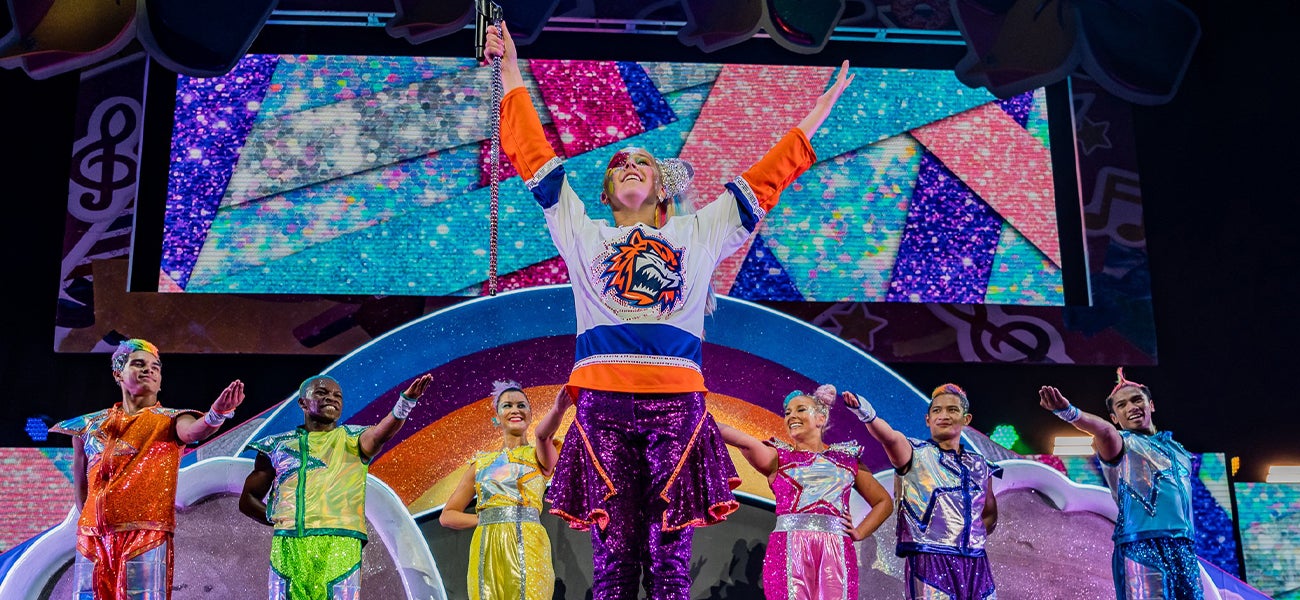 MULTIPLE HIGH-PROFILE EVENTS COME THROUGH WEBSTER BANK ARENA'S DOORS
Total Mortgage Arena sees top-tier talent come through its doors during successful 2 week stretch.
BRIDGEPORT – Total Mortgage Arena recently experienced one of the most successful event stretches of the year as it saw more than 21,000 attendees come through its doors. Guests to the arena enjoyed a multitude of high-profile events including, national touring concerts, National Hockey League and College Hockey, and comedy.
On September 19th Thomas Rhett and his Very Hot Summer Tour played to a sold-out crowd. The country music superstar, along with Rhett Akins, Russel Dickerson, and Dustin Lynch, showcased music from his newest album, as well as some of his tried and true fan favorites. Earlier in 2019, the multi-platform recording artist took home the award for American Country Music Male Artist of the Year.
Nine days later, on September 28th, the arena played host to the final NHL preseason game of the year for the New York Islanders and the New York Rangers as they renewed their recent tradition of playing in Bridgeport. The game finished with a score of 4-2 in favor of the Islanders, extending their winning streak to three games over the Rangers at Total Mortgage Arena.
Two days after the NHL's visit, the arena opened it's doors to Nickelodeon sensation JoJo Siwa who entertained the masses with her D.R.E.A.M the Tour on October 1st. Glitter, bows, and brightly colored costumes filled the stage as her fans jumped and danced along with the music. JoJo Siwa performed many of her hit songs and even finished the show by wearing a specially made 'bedazzled' Bridgeport Sound Tigers jersey for her final performance of the night.
Just 48 hours later, on October 3rd, the arena welcomed comedic legend Larry The Cable Guy and his Remain Seated Tour. Larry had the crowd laughing as he performed material from his new stand-up routine and called on his signature trademark "Git-R-Done" as well as his past experiences as Tow Mater from the Disney/Pixar franchise Cars.
Capping the stretch was the season-opener for the Sacred Heart Men's Ice Hockey team as they battled in-state rivals the University of Connecticut Huskies. The Pioneers, members of the Northeast Conference, and Junior Matt Tugnutt scored with three seconds left in regulation to force overtime, and ultimately end the game in a tie. Sacred Heart's next home game will be on October 18th when they face American International College at Total Mortgage Arena.
"There is nothing we like more than seeing the happy, smiling faces on everyone who comes through our doors, especially after a stretch like the one we've just experienced," said Oak View Group's, Matthew Herpich, General Manager of Total Mortgage Arena/OVG Facilities. "It's a testament to all of the hard work put in by our staff, as well as the caliber of talent we have been able to play host to. Getting the opportunity to fill our calendar with such exciting entertainment is what this job is all about, and we know that the community is appreciative of those efforts."
The excitement at Total Mortgage Arena will continue as hockey season is in full-swing with Sacred Heart and the Bridgeport Sound Tigers taking to the ice for their regular-season schedules. Bad Bunny and his PRE100X Tour come to town on October 26th followed by Monster Jam from November 15th – 17th. Fans can also enjoy a select number of Fairfield University Men's basketball games starting on November 5th.
For a full list of upcoming events, please visit WebsterBankArena.com
About Total Mortgage Arena: Total Mortgage Arena has been a staple of the Bridgeport community since it opened in 2001, hosting nearly 150 events each year, including sporting events, family shows, concerts by world-famous musicians and much more. It is managed by Harbor Yard Sports and Entertainment and features nearly 10,000 seats as well as 68 suites of varying sizes, three large hospitality areas, and a state of the art, 30x16 ft., high-definition video board. Total Mortgage Arena has been home to the Bridgeport Sound Tigers since the team's inception in 2001 and also hosts home games for Sacred Heart University's men's hockey program and Fairfield University's men's basketball team. More information is available by visiting www.totalmortgagearena.com.
About OVG Facilities: OVG Facilities, a division of the Oak View Group, was founded by Irving Azoff, Tim Leiweke, with the support of Silverlake to make a positive disruption in the entertainment industry. OVG Facilities is a full-service venue management company that creates customized management plans for each of their venues. The Group currently manages arenas, theaters, convention centers and amphitheaters all over the US and specializes in event programming, venue assessments, and security and emergency preparedness.
FOR MORE INFORMATION, CONTACT:
Timothy Farrell – (203) 345-4817 – Timothy.Farrell@totalmortgagearena.com